By Lydia Abbot
Raise your hand if you love asking or being asked the following interview questions:
How many golf balls can you fit on a jet?
Where do you see yourself in 5 years?
What would you like your salary to be?
If you're not raising your hand, we feel the same way. Oftentimes the "go-to" job interview questions make job candidates cringe and dread the interview – and interviewers usually don't get a lot of useful insights from the answers. On top of that, some of these questions are even becoming illegal in certain countries, like the US.
So to inject some levity to the situation, we thought it would be fun to see what kids thought about the typical interview process and how they would respond to some interview questions. Enjoy:
Hopefully this video made you chuckle. But on a more serious note, we hope that it illustrates that the traditional interview process and interview questions aren't enough to accurately assess if a job candidate is the right fit for a role. In fact, according to survey respondents for our Global Recruiting Trends 2018 report, traditional interviews fall flat in a number of ways: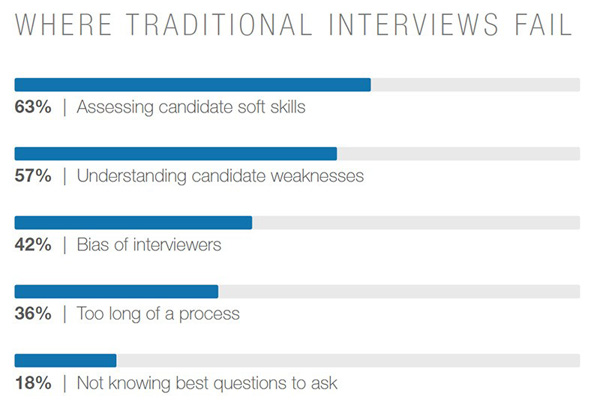 Now, this doesn't mean traditional interviews should be scrapped altogether. But there are a number of techniques that can be used in additional to the interview that can help you more accurately and fairly assess candidates. Here are five examples:
Online soft skills assessments
Soft skills assessments can be used to measure traits like teamwork and curiosity and give a more holistic picture of candidates earlier in the process. Citi, for example, has implemented such assessments for its campus recruiting program, leading to more diverse candidates and a better understanding of their talents.
Job auditions
Companies can use job auditions to assess candidates by paying candidates to do real work so that they can observe their skills in action. Citadel designed day-long job auditions in which about 100 students compete for cash by solving real business problems with data.
Casual interviews
More casual interviews, typically taking place over a meal, can offer a unique look into a candidate's character. A famous example is the CEO of Charles Schwab who takes candidates to lunch and asks for the restaurant to mess up their orders on purpose to see how they handle it. There are plenty of other examples of companies creatively adapting this concept.
Virtual reality (VR)
Companies can use VR to immerse candidates in simulated 3-D environments to test their skills in a standardized way. Lloyds Banking Group has been a front-runner in this aspect and has seen great results when it comes to reducing bias and engaging candidates.
Video interviews
Video interviews can be recorded or live and help by tapping a broader talent pool in far less time. KPMG Australia is a great example of a company who has implemented them for its entry-level hires and seen increased efficiency.
Reinventing the interview process by adding more modern tactics like these can help you gain insight into how candidate will do on the job, decrease biases that can creep into the interview process, and give job candidates a better experience.